Sprawled across the rugged Mole Tableland you will find the forests, woodlands and rocky outcrops of Torrington State Conservation Area.
Torrington is a place where Aboriginal Dreamtime stories come alive. The land, waterways, wildlife and plants of the area are significant for the Ngarrabul, Marbul, Bigambul and Jucumbul people – the traditional owners.
Home to more than 750 plant species, including 45 rare or threatened species, the park changes colour with the seasons. Spring is when it is most striking, blazing with the colour of wildflowers against the greens and browns of the native gums and grasses.
Balancing boulders, gorges, swamps and small creeks can be explored on one of the three marked walking trails that will take you to the most spectacular sites in the park. Keep your eyes peeled for some of the 135 bird, 29 reptile, 20 mammal and 13 frog species that live in this unique ecosystem, including the threatened Powerful Owl and Tiger Quoll. You may even spot a rare Turquoise Parrot or Regent Honeyeater.
Step back in time to when the land was mined for tin and semi-precious gemstones like beryl, emerald, topaz and quartz. Try your luck fossicking for your own treasure at the creek near Blatherarm campground and picnic area, the perfect base for day trippers and those wanting to stay grounded for longer.
Take a broader view and see all this for yourself from Thunderbolts Lookout, where you are presented with dramatic 360 degree views of the surrounding tablelands. Not to be missed is the magnificent rock formations on the Mystery Face Walking Track.
ACCESSING TORRINGTON STATE CONSERVATION AREA
From Tenterfield, head south along the New England Highway for 50km. Turn right into Stannum Road, just before the town of Deepwater. Follow for approximately 30km until you reach the town of Torrington where the conservation area starts.
TORRINGTON STATE CONSERVATION AREA WALKS
Thunderbolts Lookout Walking Track
Distance: 2 km return
Time suggested: 30 minutes to 1 hour
Follow this walking track to experience spectacular 360 degree panoramic views at Thunderbolts Lookout, named after the famous local bushranger, Captain Thunderbolt. Enjoy the colourful display of wildflowers during the warmer months, as you walk the well-defined bush trail from Nomads Picnic Area.
The last 200m is mostly steps, which climb through a rock shelter and up a steep 5m metal ladder; it's a challenging climb, but you'll be rewarded for your efforts. From such a great vantage point, it's a good time to see if you can spot the rare Glossy Black Cockatoo, often seen in pairs, flying overhead.
Catch your breath, as you take in the view then wander back to the picturesque Nomad Picnic Area, or Nomad's Retreat, as the locals call it, for a well-earned rest and a relaxing afternoon picnic under the trees.
Mystery Face & Westminster Rocks Walking Track
Distance: 2.6 km loop
Time suggested: 1 to 1.5 hours
The magnificent rock formations on the Mystery Face walking track are a must-see for any Torrington visitor and great for birdwatching and springtime wildflower displays. The track takes you through open woodland and past remarkable granite rock formations. Awaken your imagination and see what shapes and figures you can see along the way.
The Mystery Face itself will be revealed towards the end of the loop track. Worn over time by erosion or created by humans, we're not sure, but it serves as a fascinating reminder of the ancient Aboriginal heritage of this area. As you admire the rock formations, keep a look out for small geckos and lizards, which are often found in and around the rocky areas during the summer. In spring and summer, you'll be treated to colourful wildflowers of purples and yellows scattered throughout the bush.
For those interested in birdwatching there is also plenty of birdlife to see along the way. You might be lucky to spot the Brown Treecreeper or the bright Red-Breasted Flame Robin dotted amongst the trees.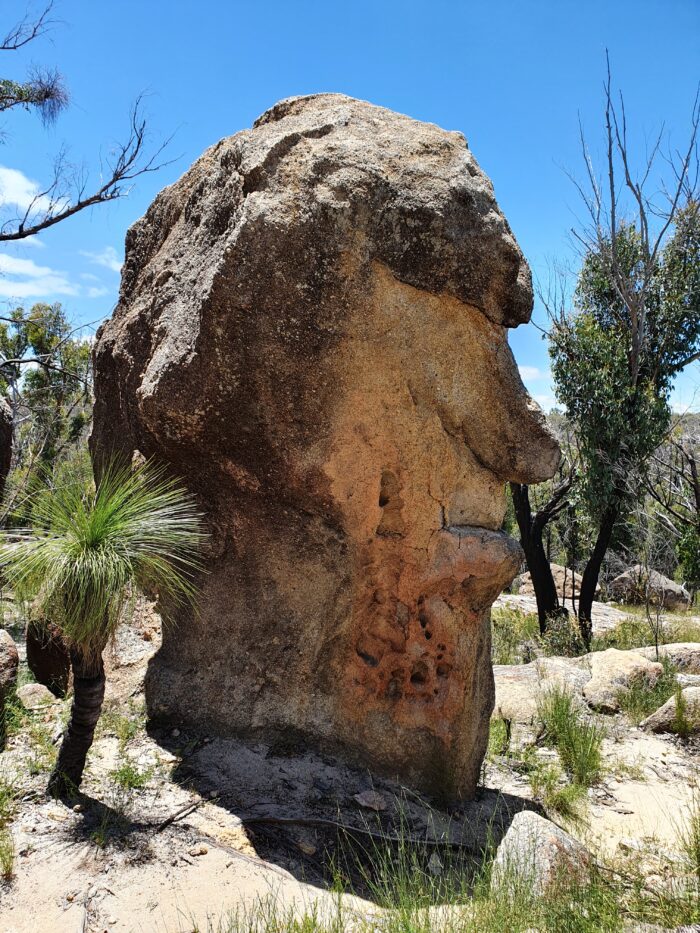 Ugly Corner Falls Walking Track
Distance: 3 km return
Time suggested: 1 to 2 hours
Meandering through the bush and along the creek, The Ugly Corner Falls walking track is a fantastic way to get back to nature and experience the unique plants and animals of Torrington State Conservation Area. You'll begin your walk on the old fire trail to Oaky Creek. After a bit of rock hopping and a creek crossing, the well-defined track takes you through wooded bush scattered with grass trees – strange looking stumpy trees with long blades of grass growing out the top. In spring and summer, look out for rare wildflower species like Beadle's Grevillia, with its red and black toothbrush flowers, and Torrington Wattle.
After approximately 1.5km, you'll arrive at Ugly Corner Falls. Best viewed after rain, they provide a tranquil spot to take in the scenery and peaceful surroundings before you head back the same way. If you're ready for a rest after your walk, consider heading to the nearby Blatherarm campground and picnic area to enjoy a relaxing afternoon by the creek.
Visit the National Parks page for more walking, hiking and cycling trails available in Tenterfield Shire. 
For more information on Torrington State Conservation Area, visit the NSW National Parks & Wildlife Website.