When it comes to shopping for and a love of all things gardening and flowers, Tenterfield is home to some real gems! If gardening makes your heart sing and flowers inspire you, we can guarantee your visit will be a memorable one.
Start your hunt for that unique find and visitor experience by dropping by The Potting Shed at 348 Rouse Street – a must-visit for lovers of gardening, plants, homewares, and great coffee! Matt and the team will welcome you with a smile and 10/10 country hospitality every time. Choose from a delicious assortment of ever-changing tasty homemade menu items from the coffee nook and spend time relaxing in the space. Enjoy a relaxing wander around the indoor/outdoor nursery and shop, as you browse the well curated collection of goods for the home and garden.
Across the road, you'll find Tenterfield Hardware & Garden Centre's heritage nursery shop, stocking a range of plants and garden care products. The friendly staff are always only too happy to help with finding a suitable gift or materials you might need for an upcoming DIY project.
Located right in the heart of Tenterfield's main shopping strip on Rouse Street, pop in and say hello to Trudy at Little Magnolia Florist, where you can purchase beautiful bunches of fresh flowers, floral arrangements, bespoke wreaths, and a range of unique giftware.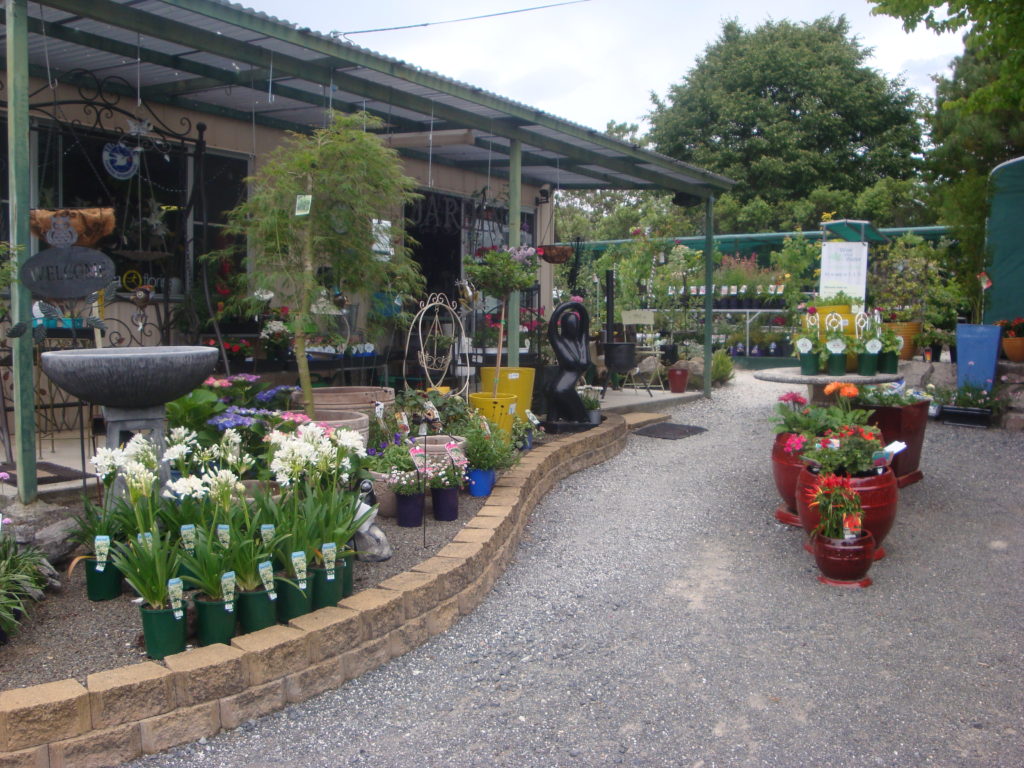 And just five blocks away in Derby Street, you can meet Yvonne at Loganlea Nursery & Florist. Here you'll find fresh flowers, silk flowers, gift hampers and a large selection of plants, pots, gardening items and giftware. If you're celebrating a special occasion that calls for flowers when you visit, call ahead and the lovely ladies can put together the perfect arrangement to bring a smile to anyone's face. And, if you're planning on tying the knot in this magnificent region of the New England High Country, you'll be needing a trusty can-do local florist, right?
For lovers of vintage wares and floral magic, a visit to Tenterfield just wouldn't be complete without stopping in at White Cottage Flower Farm located at 193 East Street. The idyllic little white cottage in the middle of a country garden is home to the things dreams are made of. After you make your way through the front gates and meander down the garden path, Mandy will welcome you with a friendly smile. Time will get away from you before you know it as you get lost exploring the vintage and farmhouse wares.
This place is a photographer's dream with picture-perfect scenes presenting at every turn. Look down and you'll find tiny treasures nestled throughout the hand-selected furniture sourced from near and far. Look up and you'll be in awe of the dried floral installations hanging above doorways. Look across and you'll be delighted to see multiple rooms to explore. Fresh flowers and seasonal everlasting wreaths are also available for purchase. Mandy also hosts floral arrangement workshops, which is the perfect way to spend a few hours with good company in the stunningly beautiful glasshouse space. If not for your own creative pleasure, this experience would make the perfect gift for the floral-inspired creatives in your life. These workshops need to be booked in advance, so if you're making a special trip, be sure to get in touch first.
And while we're on the subject of dreamy floral inspiration, if you're looking for the perfect pressie for the flower lover or aspiring florist in your life, the book 'A Tree in the House' by local author Annabelle Hickson might be the perfect choice! It is pretty enough to be a permanent addition to the coffee table and practical enough to act as a trusty go-to for flowers for the home, special occasions and every day. You can buy the book online, as well as from many of Tenterfield's local retailers.
If you are keen to get off the beaten track a little and explore the western side of the Tenterfield region, there's Mole River Nursery. Situated on a 2915ha sheep and cattle property, this wholesale native nursery specialises in the production of frost hardy native shrubs and farm trees. You can order online or contact David and Sarah to arrange a visit.