When James Francis Thomas began his law career in Sydney in 1887, he had no idea that his name would one day be known worldwide, or that a famous actor would immortalise him in a movie almost 100 years later.
J.F. Thomas briefly practised law in Sydney before moving to Emmaville in 1888 and then onto Tenterfield in January 1890. He established a country law firm and served in the Tenterfield arm of the voluntary Upper Clarence Light Horse, where he was commissioned as a Second Lieutenant in 1891 and Captain in 1895.
In 1894 he purchased the Tenterfield Star newspaper, which he owned for 16 years. One of his primary motivations for purchasing the newspaper was to advocate for Australian Federation. The Tenterfield Star was also the first country newspaper to advocate the formation of the Country Party.
In late 1899 at the outbreak of the Boer War, J.F. Thomas was among the early officers to volunteer for service in South Africa. Having been given command of a squadron, Thomas sailed for South Africa in February 1900 and was promoted to the rank of Major in January 1901. He served with courage and distinction, especially during the Rhenoster Kop and Eland's River battles. He was awarded the Queen's South Africa Medal with four campaign clasps.
While in South Africa, he was appointed as a defence lawyer for Lieutenants Harry 'The Breaker' Morant, Peter Handcock, George Witton, Robert Lenehan and Harry Picton from England, and Alfred Taylor, who was a South African of Irish birth, who stood accused of murdering Boer prisoners. The court martial proceedings were held in Pietersburg, Northern Transvaal in 1902.
Running for five weeks, the trial was really a series of trials, each considering a separate incident. Major Thomas defended them with great passion, however, following the trial, Lieutenants Morant and Handcock were executed; an outcome which shook Thomas. This was the last time an Australian soldier was tried by a British Court Martial.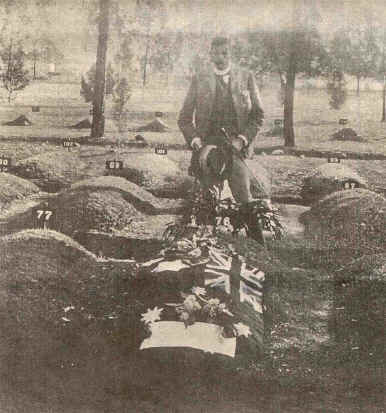 When the war ended in 1902, he remained in South Africa to crusade for Witton's release from Lewe's Prison in England, which was achieved in 1904. As for the other men, Lenehan was reprimanded and discharged, Picton was cashiered (dishonourably dismissed) and all charges against Taylor were dismissed.
During the trial, Major Thomas requested permission to publish certain undisclosed facts that he knew could have influenced the Court Martial, however, was refused. He then resigned his commission in the Australian Reserve.
After his retirement, he spent much of his time on his property at Boonoo Boonoo, north-east of Tenterfield in New South Wales. He continued his work with the Tenterfield Star and resumed his law practice. The two businesses were eventually co-located following the construction of the historic Tenterfield Star building at the northern end of Rouse Street in 1913.
From here, he continued to support Australia's fledgling federation. He also had a keen interest in the history of Tenterfield and authored the town's first published history in 1922.
Thomas died at his Boonoo Boonoo property on Armistice Day 1942 aged 81.
In 1980, actor Jack Thompson starred as Major J.F. Thomas in the renowned Australian film, 'Breaker Morant'.