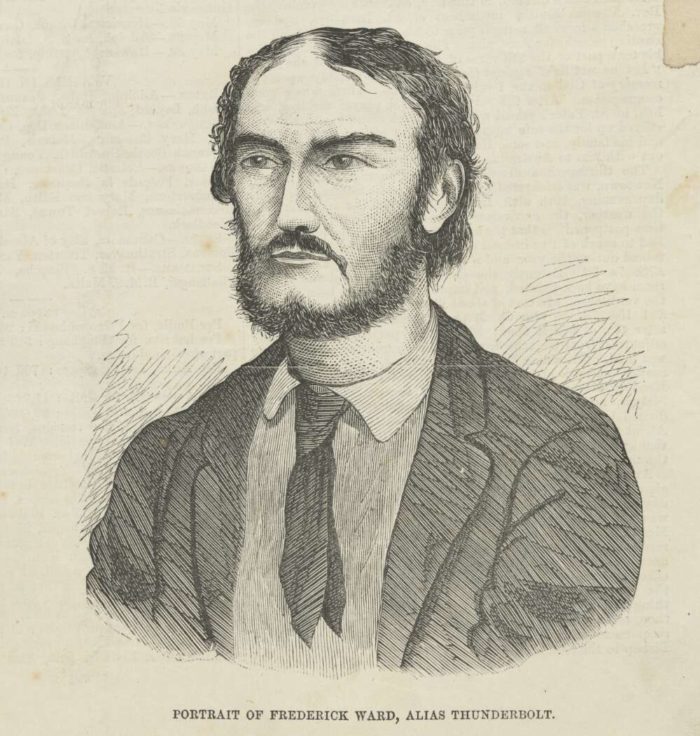 Frederick Ward, better known as Captain Thunderbolt, was the longest roaming bushranger in Australia's history. He was very familiar with the Tenterfield region, using it as both a hideout and hunting ground for his hold-ups.
The son of a convict, Fred was one of ten children and, like many boys in the 1800s, was sent to work at a very early age. He found himself working on numerous stations where his natural horsemanship and horse-breaking skills were honed. Little did he know that he was training himself for a very different future career!
His horsemanship saw him caught up in a horse stealing racket with his extended family, and he was eventually convicted of handling stolen horses and sent to prison at Cockatoo Island in Sydney Harbour. He was released after four years, however his freedom was short lived. He was returned to the prison for breaching his 'ticket of leave' conditions after he left town to deliver his pregnant partner back to her father's property for the birth of the baby. He was apprehended on his return, and it didn't help that he was riding a stolen horse!
On 11 September 1863 Fred and a companion escaped from their prison work group and hid for two days, before swimming to their freedom. Over the next six years, Fred transformed into the notorious Captain Thunderbolt, robbing mailmen, travellers, inns, stores and stations in New South Wales and Queensland.
The many caves and bushy hideouts across New England were some of Thunderbolt's favourites.
Thunderbolt's Hideout
Take Mt Lindesay Road to the signed hideout and follow the track to the site, which is 300m from the road. The large area between the rocks and stable was used for Captain Thunderbolt's horses and the small shelter under the large rock as a place to camp. The top of the rock made an ideal lookout, as this was the main road to Warwick during the gold-mining days.
Thunderbolt's Tree – Located between Bookookooara and Willson's Downfall, on the eastern side of the road, there is a building that was once the Jenners Creek Hotel. The people living there in Thunderbolt's time had often shown him kindness and he brought them a fruit tree as a gift – a large pear tree at the rear of the house.
Thunderbolt was popular among residents of the small country communities throughout New England and was known as the Gentleman's Outlaw. He once had dinner (at gun point) with the manager of a Bonshaw store he was robbing, giving back some of his spoils so the manager would have change in his register for the morning. Legend says he also held up a travelling German band in the Boonoo Boonoo mountains, but after making them play for him, gave their money back and let them go on their way, unharmed.
Despite a large bounty, he managed to avoid capture due to his relationship with residents. He also only stole the best horses (his years working with horses had made him an excellent judge!), which made it difficult for the police to catch him on their inferior horses. He never shot a single person during his career.
His daring and defiance of the troopers eventually caused his downfall at Uralla where constables Walker and Mulhall called on him to surrender. Shouting "I'll die first!" he fired a shot at them. Constable Walker's next shot found its mark and Thunderbolt was shot. Thinking he was mortally wounded, the police left him on the riverbank, intending to return the next morning for the body. When they finally returned, they found that Thunderbolt had crawled some distance and was under a clump of bushes and still alive. The story goes that he did die shortly after the group reached Uralla. Constable Walker received the reward for the capture of Thunderbolt and an Australian legend was born.
Thunderbolt's Leap
The site of a close encounter between Thunderbolt and the law. On his way to a planned raid with an accomplice, Thunderbolt arrived at Tenterfield Creek to find it flooded. As they were attempting to swim their horses across, they noticed two law officials waiting for them on the other side. They raced through the bush and came to a steep wide gully. Rather than being captured, they decided to jump. Thunderbolt came out unscathed, however his accomplice broke his ankle and his horse was killed. Both outlaws escaped and the site became known as Thunderbolt's Leap.